David Fiuczynski: Flam! Blam! Pan-Asian MicroJam!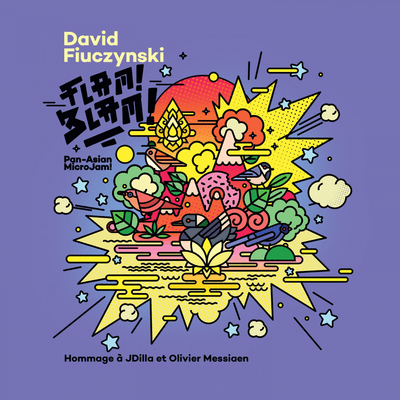 Reviews:
Flam! Blam! Pan-Asian MicroJam – David Fiuczynski (RareNoise) by Fred Bouchard – (The New York City Jazz Record):
Sometimes you cannot quite believe what you're hearing. That can happen with players of phenomenal technique parsing unusual textures or fixating on territories between the scientific and natural worlds. Elusively unclassifiable guitarist David Fiuczynski leads a septet of peers and students (of his Planet Microjam Institute at Berklee College) in microtonal explorations into the realms of hip-hop and classical. Subtitled "Hommage à JDilla et Olivier Messiaen", the disc taps into the hip-hop producer's 'flammed' beats and French composer's playful study of adapting birdsong. The results are two lean, witty, brilliantly- hued yet ultimately meditative suites: "Flam!" features Helen Sharrah Davies' violin and Yazhi Guo's suona (Chinese oboe) and the shorter "Blam!" resonates with Rudresh Mahanthappa's sinuous altos (plural).
David Fiuczynski – Flam! Blam! Pan-Asian MicroJam(2016) by S. Victor Aaron:
Listening to the microtonal world of David Fiuczynski is like thinking that our solar system is a pretty vast world and then remembering that it's just a speck on a galaxy and that there are millions of other galaxies out there. 'Fuze' opens the door to a whole other musical universe when he plays all those notes between the set intervals of Western music theory and its 12-tone chromatic scale, which he accurately describes as "just a suggestion." In opening the door outside the Western house and playing outside where everything else is musically possible, this truly unique composer, fretless guitarist and music educator demonstrates how much more is possible in music.
Guitarist Dave Fiuczynski Releases Album 'Flam! Bam! Pan-Asian MicroJam' by Anjte Huebner:
The seven movements that comprise Flam! instigated by Fiuczynski receiving a 2011 Guggenheim Fellowship, show the connections between exotic bird calls and J Dilla's famous 'flam beats' while also referencing the colors of Messiaen's music, Gagaku, the ancient court music of Japan, and other Pan-Asian ingredients. The three extra tracks that comprise Blam! feature special guest Rudresh Mahanthappa on alto saxophone. Fiuczynski is joined on both portions of his latest release by former Microjam Institute students Utar Artun on microtonal keyboard, Yazhi Guo on suona (Chinese oboe) and percussion, Helen Sherrah-Davies on violin, Jack Sherman on microtonal keyboard, Justin Schornstein on bass and Alex Bailey on drums.